October 2022 Events & Celebrations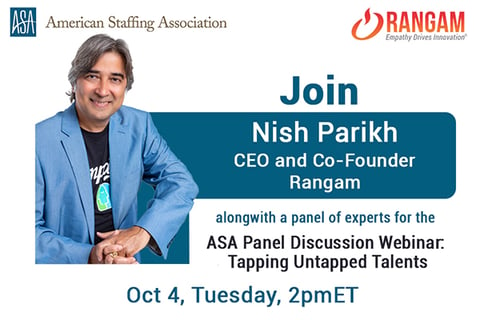 ASA Panel Discussion Webinar:
Tapping Untapped Talents
Oct 4, Tuesday, 2 pm ET
We all have our go-to talent pools. However, when you rely too much on those pools, you catch the same fish over and over—or you run out. It is time to look to consider additional sources to recruit a diverse array of qualified candidates. Tune into this panel of experts on recruiting from pools, such as the formerly incarcerated, the neurodiverse, and people with disabilities.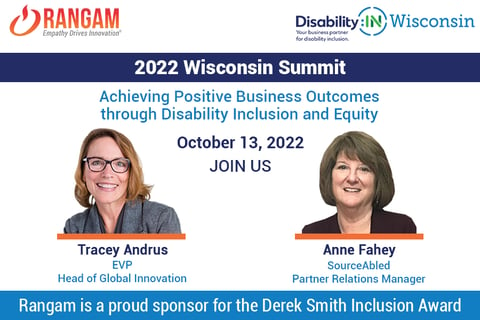 Power of Inclusion – Partnership Strategies | 2022 Wisconsin Summit
October 13 @ 1:15 pm - 2:00 pm
Why is inclusion essential to business success? Learn the answer to this question and what the "Power of Inclusion" means for your company from Rangam's EVP, Head of Global Innovation, Tracey Andrus, at the 2022 Disability:IN Wisconsin Summit: "Achieving Positive Business Outcomes through Disability Inclusion and Equity"! Don't miss the premier conference of the Midwest. Register Now!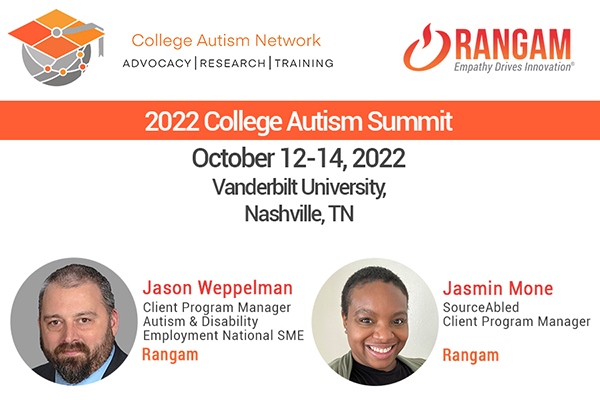 College Autism Network Summit
Oct 12-14 | Nashville, TN
We are super excited to sponsor the College Autism Network Summit and be featured on the official event website. This summit will focus on providing the chance to learn about emerging research, share perspectives, and give attendees the opportunity to walk away with an applicable toolkit. It will also bring together leaders that are centered on employment, leadership, and advocacy to discuss evidence-driven strategies that help support college students with autism and related learning differences. We look forward to building meaningful relationships with over 120 schools along with scholars, practitioners, administrators, employers, and autism self-advocates.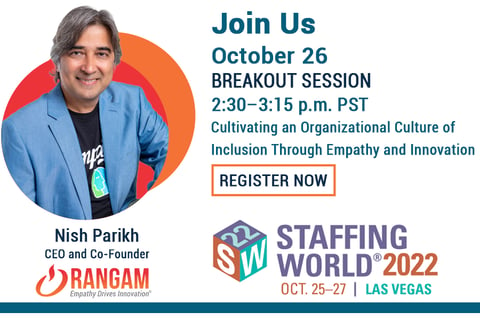 ASA Staffing World 2022
Cultivating an Organizational Culture of Inclusion through Empathy and Innovation

Oct 26, Wednesday, 2:30–3:15 p.m.
In the ever-evolving talent landscape, diversity, equity, inclusion, and belonging (DEI&B) strategies are paramount to meeting business needs and capitalizing on the competitive advantages of DEI&B. In this interactive session, you will learn from the subject-matter experts at Rangam on why empathy, innovation, and technology are fundamental components of DEI&B strategy—most importantly as they pertain to attracting and retaining autistic, neurodivergent, and disabled talent.
SourceAbled UK REDI Chat: Webinar Series for Neurodivergent Candidates
Whether you're looking for a job for the first time or considering the next step in your career, this is the webinar series you've been waiting for! Join our experts for the month of October as we host a series of webinars, jam-packed with tips for success in your career and job search.
Visit our events page to register for one or all of our exciting sessions!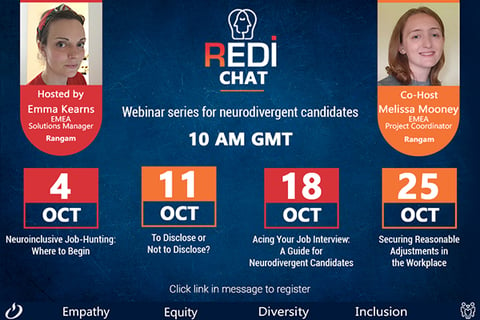 Navigating the Spectrum with
Dr. Temple Grandin
Brilliant scientist, professor of animal science, and distinguished author are just a few of the many titles that Dr. Temple Grandin holds. Her lived experience as an autistic self-advocating professional has revolutionized many misguided perspectives on the limitations of her peers and she continues to use her platform to educate others on the importance of thinking differently.

Join Nish and Dr. Temple Grandin for a candid chat on Wednesday, October 12th at 2 pm EST on LinkedIn, or YouTube!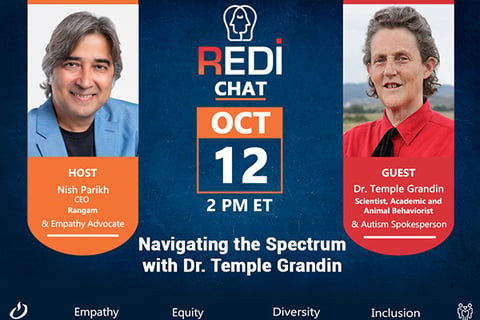 Rangam is now a proud supporter of Save Soil. If you would like to know more about Save Soil and their mission, please click this link: savesoil.org