Rangam is a global minority, woman, and disability-owned
workforce solutions company where our philosophy "Empathy
Drives Innovation" influences everything we do

Are you a job seeker with disabilities, autism or other forms of neurodiversity? SourceAbled can help you find your next job.
We are a business whose foundation is built on a mission to improve the quality of life for our candidates while providing exceptional service to our clients.
Innovative Workforce Solutions
As one of the leading IT staffing companies, we pride ourselves on developing cutting-edge technology capabilities to provide quick and reliable contingent solutions at scale. SourcePros is designed to handle client information, requisition management, candidate screening, candidate tracking, candidate communication, onboarding, background checks, employee communication, offboarding, and reporting, among other functions of temporary staffing services.
With a mission to support neurodiversity at work, SourceAbled connects corporations to the autism and neurodiverse community through a revolutionary combination of technology and collaboration. Besides creating jobs for autistic people, it is designed to attract and hire qualified neurodivergent talent and provide them with the necessary assistance to succeed at autism jobs
In addition to raising awareness about the autism employment gap, we also honor our veterans through SourceVets, a career development and employment program for transitioning military service members.
Consultant Care Program
Rangam Cares is the heart of Rangam providing exceptional customer service for our consultants. Our Rangam Cares Team supports our consultants during onboarding and throughout the life-cycle of their employment with Rangam.

Testimonials
Director Global Procurement - Pharmaceutical Client
Our partnership with diverse suppliers like Rangam has been mutually beneficial and has led to the development of several MWBE programs for the region's entrepreneurs.
Vendor Manager - Telecommunications MSP
One of the top performing vendors we have
Project Manager - Pharmaceutical Consultant
LJ Welding Automation consistently displays a high degree of integrity, excellent customer service, and technical expertise. In addition to their excellent customer service, their equipment has become the standard within our company division, as we have utilized LJ equipment exclusively for our large Alberta oil-sands construction workshop expansion.
Press
SOMERSET, N.J. and CORK, Ireland, May 26, 2022 /PRNewswire/ -- Workforce solutions firm Rangam opens a new office in Cork, Ireland as part of its continued EMEA expansion strategy to meet the growing global demand for effective and accelerated innovation in diversity, equity, and inclusion (DE&I). More...
Thought Leadership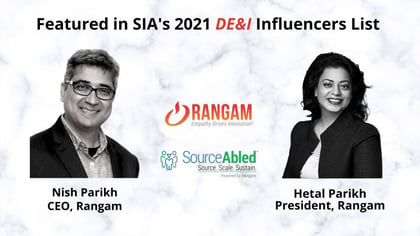 Featured in SIA's 2021 DE&I Influencers List
We are excited to announce that our Co-founders Nish Parikh, CEO, Rangam, and Hetal Parikh, President, Rangam have been named to SIA's 2021 list of DE&I Influencers. This Staffing Industry Analysts list recognizes individuals who advance Diversity and Inclusion in the workforce.
More..
Whether you're working or looking for work, having the right tool is vital to your employment success.
Get your week off on the right foot by downloading Rangam Talent Network.